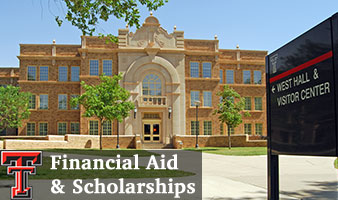 Dr. Lawrence Schovanec, President, Texas Tech University, has announced the expansion of the Texas Tech University Red Raider Guarantee program. Starting with the Fall 2020 term, the program will guarantee tuition and mandatory fees to new entering freshman and transfer students with an associate's degree who have a family adjusted gross income that does not exceed $65,000.
This is an increase from the previous limit of $40,000, according to Anne Arnecke, Academic Advisor for TTU-Fredericksburg.
"This is great news for families that make less than $65,000," Arnecke said. "This alone will help students make the decision that this is a good time to pursue their college educations."
In addition to meeting the family financial limit, qualifying students must be Texas residents, have demonstrated financial need, and be enrolled full time (12 hours or more each semester – Fall/Spring only). More information is available on the Financial Aid website at www.ttu.edu.
Arnecke noted there is still time for new students to get accepted for Fall 2020. Area students need to email lance.pickle@ttu.edu for admission.
All current classes and Summer Session I courses are being held online. During this time, TTU counselors at the Hill Country University Center in Fredericksburg are working from home and are available to help any local TTU students who are enrolled on the local or main campuses. Contact Anne Arnecke, Anne.Arnecke@ttu.edu; and Lance Pickle, lance.pickle@ttu.edu. The university is continuing to closely monitor the COVID-19 impact, and will provide updates on the status of Summer Session II courses as those dates get closer.