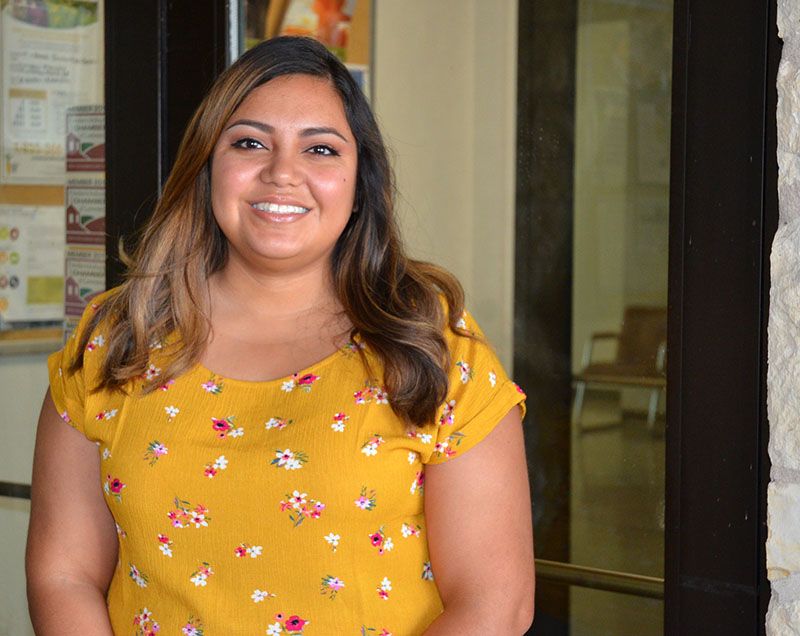 Getting a college degree is not the only goal for Tatiana Neri. She has much bigger plans.
"I want my degree so I can become Director of the Good Samaritan Center."
You might say Tatiana is motivated. And she has the full support of John Willome, who happens to be the current Director of the Fredericksburg non-profit agency. In fact, he is the one that put the idea into her head.
"Within a few months of Tatiana coming to work at the Center, I could tell she had a tremendous amount of untapped potential," Willome said. "I told her, 'You can do my job one day. All you need is education and experience.'"
First she needed to get that education. While in high school, Tatiana jumped on every dual credit program offered through Hill Country University Center. She took summer classes and evening classes, accumulating 21 hours of college credit.
All the work paid off when Tatiana learned she had been accepted at a major university. She was set to be her family's first-generation college student. Growing up in Mexico, her parents had no schooling at all (they are now U.S. citizens).
But Tatiana had to abandon her college plans. During her senior year in high school, she became a single mom.
That could have been the end of the story. Until she had that fateful conversation with her boss at the Good Samaritan Center.
"He said, go back to school," Tatiana recalled. "I said, no, I'm a mom, and already three years out of school."
But her co-workers wouldn't let it go. One morning she found a sticky note on her desk. It said, "Call College," with a smiley face drawn underneath.
She did.
And in 2015 she enrolled at CTC, earning her AA in Business Administration by 2018. She will start work on her bachelor's degree at TTU in the spring.
"I can't even describe how amazing it is to have this university center here. To be able to go to school from the comfort of home without having to leave, to raise my daughter. When I got pregnant, I saw it all crumble. I was a single mother, Hispanic, and saw everything against me. Now, it gives me chills to know I will have a diploma from TTU."
Tatiana now works as Medication Assistance Program Coordinator, where she is an advocate for patients that can't afford chronic medications. But she is gunning for her director's job.
"I'll be waiting when he retires! If it doesn't work out here, I would love to lead a similar organization."
Willome is fine with that.
"We are so proud of Tatiana, and I am grateful that the University Center is here and that it has the relationships with Central Texas College and Texas Tech. The opportunity for Tatiana and so many others to get postsecondary degrees here is an immeasurable value to the community as a whole, not to mention the students' individual lives as well."